Bank's Cayman Island branch not part of deal
Despite Silicon Valley Bank (SVB) customers in Asia having their deposits seized by the Federal Deposit Insurance Corp. (FDIC), they remain indebted to First Citizens Bank for outstanding loans, according to a new report. 
FED REPORT ON SILICON VALLEY BANK COLLAPSE BLAMES MISMANAGEMENT, WEAK GOVERNMENT OVERSIGHT
The FDIC brokered a sale of SVB's customer accounts, branches and loans to First Citizens, after the California bank failed to insulate its U.S. deposits earlier this year.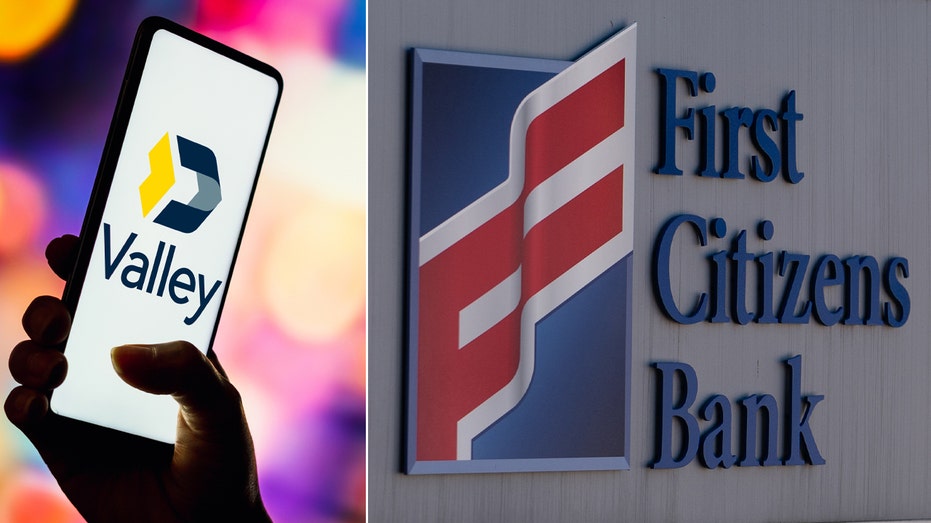 Valley National and First Citizens logos (Getty Images / Getty Images)
Meanwhile, SVB's branch in the Cayman Islands, which held clients from China, Singapore and other parts of Asia, including venture-capital and private-equity firms with funds that domiciled in the British overseas territory, was not part of the deal.
FDIC SAYS FIRST CITIZENS BANK HAS REACHED DEAL TO PURCHASE SILICON VALLEY BANK
Some SVB customers told The Wall Street Journal that they asked First Citizens if their loans could be deducted with deposits from their Cayman bank accounts. 
In response, a First Citizens spokesperson told the Journal a setoff "isn't legally possible in this situation" because First Citizens owns the capital-call lines while the Cayman deposits were with SVB Financial Group, the former holding company of Silicon Valley Bank.
First Citizens did not return FOX Business' request for comment.
FIRST CITIZENS BANK CUTTING JOBS AT FAILED SILICON VALLEY BANK
First Citizens said it is willing to provide debt extensions to some Asian funds, after SVB's Asian customers were separately informed in May that requests for additional credit-line increases will no longer be approved by First Citizens, according to the Journal. 
In March, SVB Financial Group filed for Chapter 11 bankruptcy in the U.S. and subsequently revealed that its securities business will be acquired in a management buyout.
GET FOX BUSINESS ON THE GO BY CLICKING HERE
The FDIC has also informed SVB's Cayman depositors they will be viewed as general unsecured creditors and can file claims by July 10, the Journal reported.