On the day Damien Hardwick announced his surprise move to finish up as Richmond coach mid-season, so he could smell the roses, players and staff headed to the nearby London Tavern for lunch.
It was the perfect location to pay tribute to their premiership coach as the pub has Stone and Wood Pacific Ale on tap, so they could propose a toast to 'Dimma' with his favourite beer and, as Dylan Grimes said, "turn the page on a chapter of the Richmond book".
Then it was back to work.
For everyone but Hardwick of course, who spent his first unemployed Sunday on the couch holding aloft a Stone and Wood as he settled in to watch the Tigers take on Port Adelaide.
Last Sunday he was a world away in Denver, Colorado but the party was only just starting as he raised a glass to Tiger fans and club CEO Brendon Gale as he settled in at the perfect time of 9.10pm Saturday to watch the Giants play Richmond.
His timing was good with the Denver Nuggets – which features Traralgon's Jack White on their roster, the same country town current Tigers coach Andrew McQualter hails from – in between NBA play-off games.
After a bit of digging, Snap Shot had a tip suggesting the bar may have been the old Three Lions Bar on Colfax Avenue (now the DNVR sports bar), but that's not confirmed. Snap Shot is sure it wasn't the Dew Drop Inn on 17th Avenue in Denver.
Hardwick may have found 40 people pledging to become Tiger members, but these postcards – which brilliantly break the old rule of don't be photographed with a beer in your hand – can't go on, surely.
Richmond's next match is on Saturday night in Perth and starts at 7.25pm Eastern Standard Time, meaning it will be 3.25am in Denver, 2.25am in Los Angeles or 5.25am in New York or Miami.
Now we're talking.
Of course, if he shot over to Ibiza on his hold your beer high world tour, it would be a much more pleasant 11.25am.
We look forward to the next instalment of "Where's Dimma?"
THE NEALE DEAL
Snap Shot loves the way Brisbane Lions midfielder Lachie Neale plays the game, hard at it and fair.
But such is the desperation of opponents to stop the 2020 Brownlow medallist's influence on games, as the Lions attempt to earn a top four spot in 2023, they are crossing the line in the match review officer's eyes and finding themselves in strife.
Neale has found himself on the charge sheet as the victim player three times this year, and we are only halfway through it, with the Giants' Callan Ward and Adelaide's Rory Laird done for a dangerous tackle, and Carlton's Nic Newman done for striking.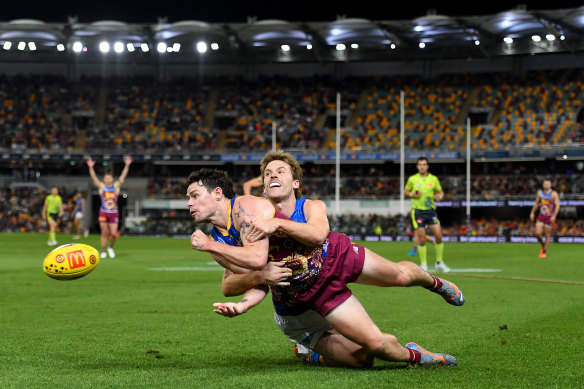 That's the same number of times he has been the victim player since his career began in 2012 with Port's Jay Schulz, Richmond's Trent Cotchin and Geelong's Gary Rohan becoming entangled with Neale over the years.
None of that is Neale's fault and, of course, being a decent bloke he even took the time to appear as a witness for the Blues' Newman, giving evidence that helped have Newman's ban overturned.
On the coach's whiteboard
Before you go, here are ...
Five things Snap Shot believes football supporters - particularly Collingwood ones - would appreciate West Coast apologising for:
Their theme song
The non-free kick for blocking to the Magpies' Brayden Maynard late in the 2018 grand final
The blow-up Eagle at the top of the race they run under before games rather than running through a banner
Their injury list
For winning three of their past 38 games and being drawn to play Carlton, Essendon and Richmond twice this season
They said
"We are significantly younger than North Melbourne out there tonight." - Essendon coach Brad Scott after the Bombers tight win over the Kangaroos.
But they forgot to say
"We are significantly younger than North Melbourne out there tonight, if you throw in my age against Brett Ratten's, which takes us below the Kangaroos' average age. If you just count the players, our average age was 39 days older, but we had played fewer average games."
Keep up to date with the best AFL coverage in the country. Sign up for the Real Footy newsletter.