ESSAY
On Peter Carey
Sarah Krasnostein
Black Inc, $17.99
My first encounter with Peter Carey was his fourth book, Illywhacker (1985). On several occasions, I laughed so loud that I dropped it. This could have been dangerous as it is a considerable volume. I had grown up on Monty Python, Norman Gunston and Aunty Jack. Yet never had I encountered humour as sly or devious as Carey's. He didn't build to punchlines; he sprang them like traps. The funny thing, so to speak, is that his work is inherently serious. However absurd the situations he sometimes navigates, he is by no means an absurdist. If anything, the reader leaves his company "sadder and wiser", as Coleridge might have said.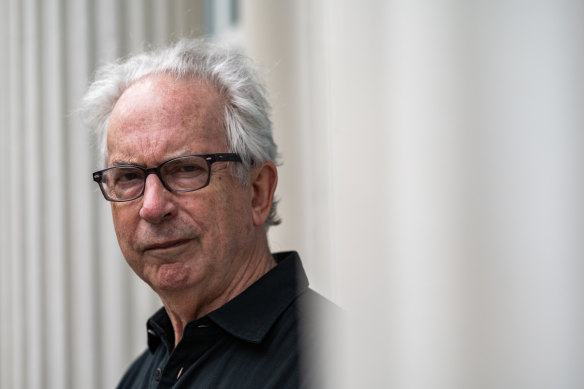 Carey has a long-standing fascination with lies and liars. Illywhacker is told in the voice of Herbert Badgery, who is 139 years old: "I am a terrible liar and always have been a liar." Carey's most recent novel, A Long Way from Home (2017), sets out in a similar vein. One narrator introduces a central character, her father, by saying "he did not know how to lie, or so it seemed". True History of the Kelly Gang (2001), sometimes considered his masterpiece, has an extraordinary opening:
I lost my own father at 12yr. of age and know what it is to be raised on lies and silences my dear daughter you are presently too young to understand a word I write but this history is for you and will contain no single lie may I burn in hell if I speak false.
Much of Carey is in this perambulating sentence: three references to lies and falsehood, a missing father, an attempt to reach a daughter and a sense of history as an awkward relationship.
On Peter Carey is the latest instalment in a series from Black Inc. Whoever thought to match Carey with Sarah Krasnostein had a bright idea that she has beautifully realised. Both Carey and Krasnostein have a deep longing for home. Carey moved to New York from Australia in 1991. It is hard to believe that the wunderkind who published The Fat Man in History in 1974 has just turned 80.
Krasnostein came in the opposite direction as a teenage immigrant from the United States in 1994. She observes that "moving continents involved a great haemorrhaging of people and places". Carey is a sprawling and expansive writer. Krasnostein sees past this and is sensitive to his fragility.
Those familiar with Krasnostein's work will not be surprised. The Trauma Cleaner is well known and brings compassion to a character from the margins of society, one who would have been right at home in a Carey novel except for the fact she is a real person. Her subsequent book, The Believer, deserves an equally wide readership. It offers a medley of stories of spiritual quests, "six different notes in the human song of longing for the unattainable".