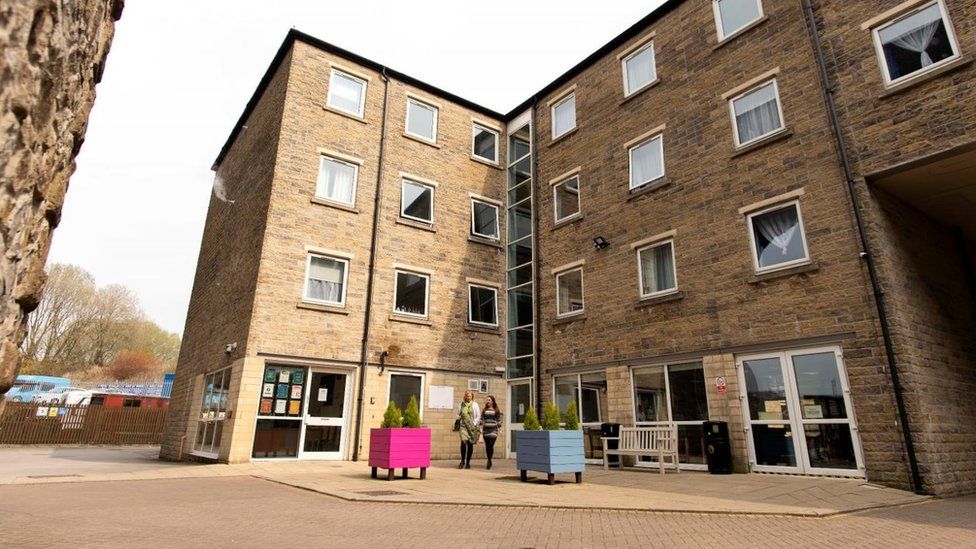 By Georgia Roberts and Liam Barnes
BBC News
Police have described a proposed location for asylum seeker accommodation as "inappropriate".
The University of Derby has applied to change the use of High Peak student halls in Buxton to housing for refugees.
A multi-storey building with 274 rooms and shared dining areas, it has been empty since 2019.
High Peak Conservative MP Robert Largan said local opposition to the bid was "overwhelming".
'Positive use'
The university is applying for a certificate of lawful development for proposed use, an assessment as to whether or not the plans require planning permission from High Peak Borough Council.
It said the change of use "would allow the space to be used by non-students, rather than stand empty".
A statement said: "The University of Derby, like many in the local community, believes that we should support those in need whenever we can.
"We are fortunate to be in a position where we can provide some limited help to individuals who have fled their country.
"We will work with the local community to ensure that they are fully informed and that they benefit from this important space being revived and put to positive use."
Derbyshire Police said it was concerned the location would be unsuitable due to "ongoing policing concerns and activity" and the vulnerabilities of people placed at the site.
A spokesperson said: "Earlier this year the force responded to a national request in relation to the potential placement of the asylum seekers in Buxton.
"The force responded to say that the placement of a dispersal centre in the area around Fairfield Road would not be appropriate.
"This response was not specifically in relation to the University of Derby's application, and it would be inappropriate for the force to make any further comment on this specific plan at this time due to the potential for a full planning application being required.
"Should that be the case then the force will review the plans and make a comment in line with normal processes."
Mr Largan told BBC Radio Derby he backed the police "on the basis of the quite severe crime issues that we have in the immediate adjacent area", adding local opposition was "overwhelming" and claiming the university was looking at "filling a hole" in its budget with the application.
"The police have said this would be a wholly unsuitable location," he said.
"My view is that it should be converted into affordable housing for local people instead."
Related Topics
Related Internet Links
The BBC is not responsible for the content of external sites.