On the China question, I flat-out do not believe that President Joe Biden understands the seriousness and severity of the China threat to American interests. Whether it's the economy, trade, defense, national security, I don't think the Bidens have a clue. Here's what President Biden said on China just today at the commencement ceremony at the Air Force Academy.
BIDEN: The United States does not seek conflict or confrontation with China. China and the United States should be able to work together where we can solve global challenges like climate, but we are prepared for vigorous competition. 
For one thing, there is no cooperation with China on climate change. They keep opening hundreds of coal plants and could care less about things like Paris climate targets. In fact, I don't really know any country that feels bound by the Paris climate targets except Joe Biden's America as he continues to wage war against fossil fuels and energy and food prices continue to rise at an alarming rate. 
More broadly, the Bidens don't seem to understand that we are not engaged in some friendly competition with China. The president talks about vigorous competition. It is much tougher than that. China wants dominance. It's not, "Let's compete and maybe we'll all do better together." 
BIDEN ADMIN REVIEWING WHETHER TO LIFT TARIFFS ON IMPORTS FROM CHINA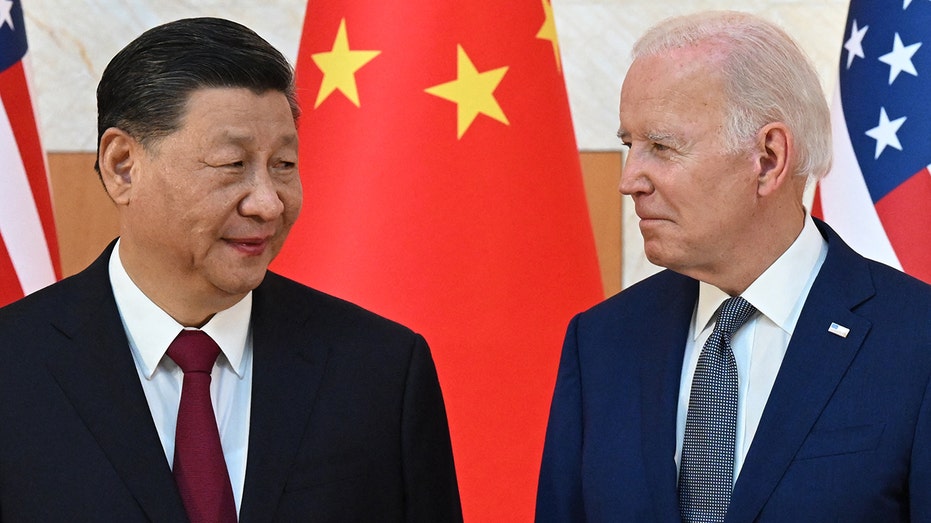 TOPSHOT - US President Joe Biden (R) and China's President Xi Jinping (L) meet on the sidelines of the G20 Summit in Nusa Dua on the Indonesian resort island of Bali on November 14, 2022. (Photo by SAUL LOEB / AFP) (Photo by SAUL LOEB/AFP via Getty I (SAUL LOEB/AFP via Getty Image / Getty Images)
China wants to dominate America and its interests in every sphere of activity. Our next guest, former U.S. trade Rep. Robert Lighthizer, is going to have a lot to say about this subject, and indeed I learned a lot about this from serving with Bob in the Trump administration and in fact, I think the whole country learned a lot from former President Donald Trump, who was the first to ring the bell on the China threat. 
You see this threat in so many places now. Our friend Gen. Jack Keane just warned about Chinese spies' brazen attempts to infiltrate our U.S. military bases. U.S. authorities discovered suspected Chinese spies disguised as tourists trying to infiltrate Alaskan military bases and gain access to highly classified intelligence. 
Joe Biden never took the Chinese spying balloon episode seriously as he waited a week before we shot it down, but meanwhile the spy balloon hovered over key ICBM nuclear bases in the upper Midwest gathering all kinds of intelligence. At last week's G7 meeting, Biden naively talked about a "thaw" in U.S.-China relations, whereupon China promptly issued a communication saying there was no thaw. 
U.S. Defense Secretary Lloyd Austin wanted to meet with his Chinese counterpart, but the Chinese said no.  The Phase One U.S.-China trade deal, which has been broken in several key places, is up for review. Let me say, this is no time to withdraw any tariffs with our leading adversary. Even with Biden's climate obsession, he and his Democratic allies that passed numerous Green New Deal bills, along with onerous EPA regulations, the Biden climate crazies won't permit natural resource mining and drilling to excavate our own minerals. They'd rather rely on China. They'd rather rely on China pharmaceuticals. They'd rather let China's culpability on COVID go scot-free. 
Virtually the whole world knows China is fixing to invade Taiwan before long, yet what exactly is our government doing about it? The Bidens have never recovered from their catastrophic decision to flee Afghanistan virtually overnight and vacate the Bagram Air Force Base leaving at least $100 billion of heavy-duty highly classified equipment behind and letting the terrorist Taliban take the country over again. That was a signal of unbelievable weakness. 
CLICK HERE TO GET THE FOX NEWS APP 
The Communist Party of China was watching. Biden's diplomacy to prevent Russia from invading Ukraine was a complete failure. The Chinese were watching and of course, the Bidens never talk about China's human rights violations with the enslaved Uyghurs or ending democracy and freedom in Hong Kong, not to speak of the Chinese infiltration of Central and South America. 
The TikTok invasion of our children and the cyber hacking that goes on almost routinely. There is no detente in sight with China and our foreign policy officials would make a huge mistake if they adopted any such strategy. Now is the time to protect America against the China adversary. Now is the time for America first. 
This article is adapted from Larry Kudlow's opening commentary on the June 1, 2023, edition of "Kudlow."