New York City is reportedly sinking under the weight of its buildings – and has been for many years. 
Measuring subsidence, or the gradual caving in or sinking of an area of land, geologists found in a recent study published in the Earth's Future journal that the city is observed to be sinking by 1-2 millimeters annually, as the sea level continues to rise.  
The researchers from the U.S. Geological Survey and the University of Rhode Island said they calculated previously unquantified contributions to subsidence, including the cumulative mass and downward pressure exerted by the built environment of the city. 
The calculated cumulative mass of the 1,084,954 buildings within the five boroughs was found to be around 1.68 trillion pounds. The average building mass is 1.55 million pounds. The estimates only included the buildings and their contents – not the sidewalks, subways and bridges.
HARROWING VIDEO SHOWS NY PIZZERIA OWNER FORCED TO LIE ON THE GROUND DURING ROBBERY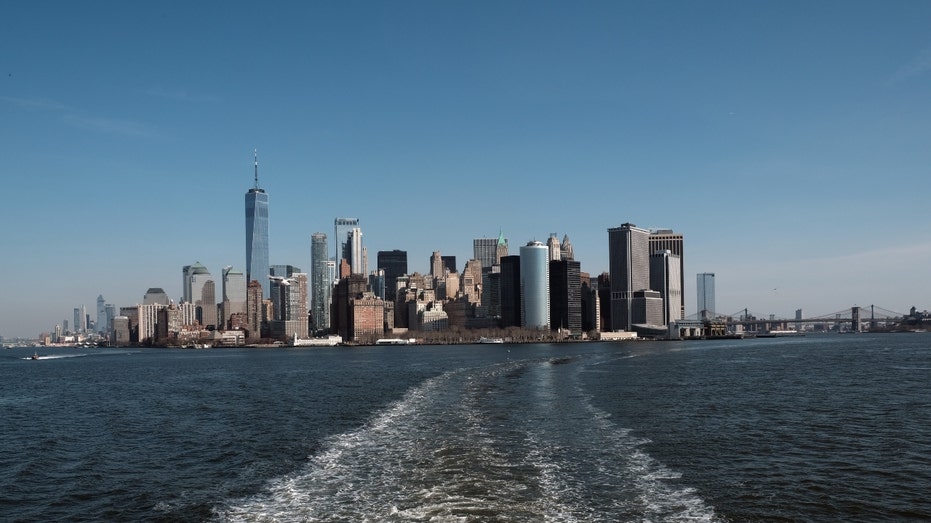 A general view of Lower Manhattan as buildings overlook New York Harbor on February 16, 2022, in New York City. (Photo by Spencer Platt/Getty Images / Getty Images)
The group also compared modeled subsidence and surface geology to observed subsidence rates from satellite data, mapping subsidence estimates across the city of 8.4 million residents. 
"Some of this deformation is consistent with internal consolidation of artificial fill and other soft sediment that may be exacerbated by recent building loads, though there are many possible causes," the study said. 
Some areas were found to have significantly greater subsidence rates, which were highlighted in the work. 
For example, areas of significant subsidence in Brooklyn and Queens correspond with places where secondary building settlement may be occurring.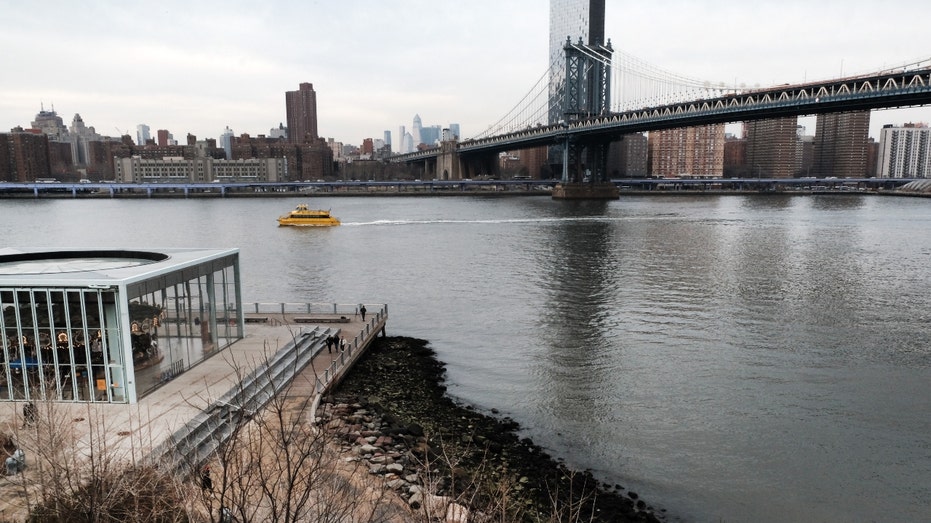 A general view of Lower Manhattan across the East River from Brooklyn Bridge Park on February 16, 2022, in the Brooklyn borough of New York City.  (Photo by Spencer Platt/Getty Images / Getty Images)
GET FOX BUSINESS ON THE GO BY CLICKING HERE
Furthermore, there are areas of significant subsidence that are clearly not explained by building loads, most notably on northern Staten Island. 
There was some correspondence deduced between significant subsidence and locations of surficial artificial fill that the researchers said might be "consolidating under load." 
New York City, the authors noted, is just one of many growing coastal cities around the world that are observed to be subsiding – which means there is a "shared global challenge of mitigation against a growing inundation hazard."
New York faces varying degrees of hazard from inundating, and the study said the combination of tectonic and anthropogenic subsidence, the increasing hurricane intensity and climate change-fueled sea level rise "imply an accelerating problem along coastal and riverfront areas."
That comes in addition to dangers from repeated exposure of building foundations to salt water and the pressure applied to the ground from large buildings.
The Army Corps of Engineers is proposing a $52B construction of coastal seawalls to mitigate the looming circumstances, according to The New York Post.
CLICK HERE TO READ MORE ON FOX BUSINESS
Major cities around the globe are expected to grow disproportionately relative to rural areas, with the United Nations projecting in 2019 that 70% of the world's population will be living in cities by 2050. 
"Increasing urbanization will likely exacerbate subsidence by groundwater extraction and/or construction density, which combined with accelerating sea level rise implies a growing flood hazard in coastal cities," the geologists forecast. "As these trends continue it will be important to be mindful of accompanying mitigation strategies against inundation in growing coastal cities."