Spider-Man: Across the Spider-Verse ★★★
(PG) 136 minutes
"Let's do things differently this time," our friendly neighbourhood narrator proposes at the outset of Spider-Man: Across The Spider-Verse. It's a promising mission statement, though considering how many big-screen Spider-Man reboots we've already had in the 21st century alone, we might wonder just how different any new take on the character is likely to be.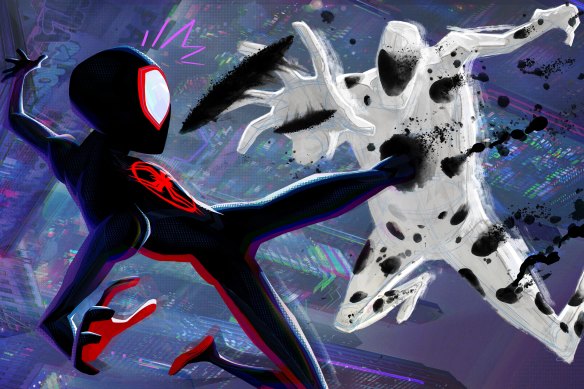 Still, in some respects, this clearly isn't a regular Marvel blockbuster. Billed as the second instalment of a trilogy, Across the Spider-Verse follows on directly from 2018's Into the Spider-Verse, and like its predecessor, is computer-animated rather than live-action, placing it outside the main continuity of the Marvel Cinematic Universe (which, technically, is itself now a multiverse – after two dozen films, it gets complicated).
That means the hero under the mask isn't Peter Parker, but his alternate-universe counterpart Miles Morales (Shameik Moore), who is Afro-Hispanic, rather than white, and hails from Brooklyn, rather than Queens – though none of this shifts the core premise of an unassuming teen who is bitten by a radioactive spider, acquires the power to shoot sticky webs from his fingers, and becomes the scourge of petty crooks and supervillains alike.
For the benefit of any purists still concerned about changes to the source material, it should also be noted that the Spider-Man comics, which have been running continuously since the 1960s, have depicted numerous, often mutually contradictory versions of the character. The wit of the Spider-Verse concept lies in allowing these different versions to exist within a single fiction, where they occupy separate, but parallel worlds.
Into the Spider-Verse opened up the possibility of travel between these worlds, allowing Miles to bond with an older, jaded version of Peter (Jake Johnson). Across the Spider-Verse introduces us to many more members of the Spidey club, including a British punk edition (Daniel Kaluuya), one from Mumbai (Karan Soni) with long silky hair, and one who's a masked horse.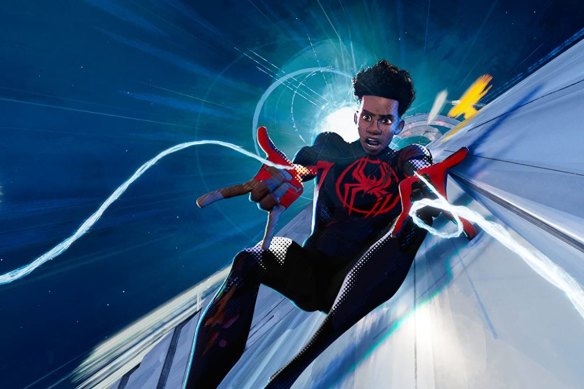 Some of these Spider-Men are even Spider-Women, including rock'n'roll drummer Gwen Stacy (Hailee Steinfeld), an alternate version of a character who traditionally serves as one of Peter's love interests. It's Gwen, in fact, who pledges to "do things differently" in the hectic opening stretch of Across the Spider-Verse, where she's recruited by an elite taskforce of Spider-People bent on ensuring that key events across all the different continuities adhere to canon.
If all this sounds bewilderingly complicated, that does appear to be part of the plan. Even the credits are hard to get a grip on: three directors are listed, Joaquim Dos Santos, Kemp Powers and Justin K. Thompson (none of them returning from Into the Spider-Verse, which had three directors as well).