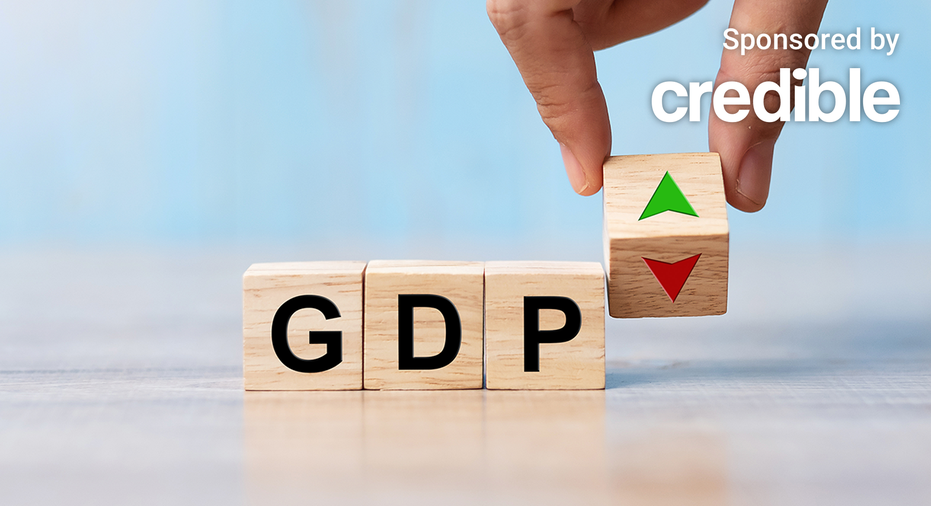 Many Americans have shrugged off what the U.S. debt default could mean to them personally, a Morning Consult survey said. (iStock)
The second estimate for real gross domestic product (GDP) in the first quarter of 2023 showed that U.S. economic growth was stronger than previously projected, partly driven by resilient consumer and government spending, according to the Bureau of Economic Analysis (BEA). 
GDP increased at an annual rate of 1.3% in the first quarter of this year, half the 2.6% economic expansion in the final three months of 2022, according to the BEA report.
"Spending increased for both goods and services, boosted by a surge in auto purchases that alone accounted for about 40% of the quarterly growth in consumption," Jim Baird, Plante Moran Financial Advisors' chief investment officer, said in a statement. "Consumer spending has benefited from the strength of the labor markets, solid wage gains, and a pile of cash accumulated since 2020."
The reading comes above the BEA's original GDP estimate for the first quarter, which showed the economy increased at a rate of 1.1%, primarily reflecting a downturn in private inventory investment and a slowdown in nonresidential fixed investment, the BEA said. 
"There was very little in the updated Q1 GDP numbers that wasn't already known," Baird said. "Consumers – the critical lynchpin to the U.S. economy – are still spending, tapping into savings and credit to be able to do so. That can't persist indefinitely, though, raising the risk of a more pronounced slowdown or recession the longer the Fed's battle with inflation drags on."
If you are struggling with rising prices and want to save money, you could consider finding a new auto insurance provider to lower your monthly premium. You can visit Credible to compare multiple car insurance providers at once and choose the one with the best rate for you.
DEMAND FOR USED CARS LIKELY TO GROW AS CONSUMER SEEK AFFORDABILITY: EDMUNDS
U.S. debt default would have consequences for the economy
Stalled negotiations on how much the U.S. government can borrow to pay for government spending puts the U.S. at risk of defaulting on its debt. If Congress fails to raise or suspend the debt limit before June 1st, the federal government will run out of money to pay all its obligations. 
Failing to raise the debt ceiling may also reverse any of the progress made to improve the economic outlook, according to the White House.  
"Analysis by CEA and outside researchers illustrates that if the U.S. government were to default on its obligations—whether to creditors, contractors, or citizens—the economy would quickly shift into reverse, with the depth of the losses a function of how long the breach lasted," the White House said in a statement. "A protracted default would likely lead to severe damage to the economy, with job growth swinging from its current pace of robust gains to losses numbering in the millions."
A debt default would jeopardize the U.S. credit rating, according to Fitch Ratings. The credit ratings agency put the U.S. credit on ratings watch for a possible downgrade and warned that if lawmakers failed to reach a deal on the debt limit by the June deadline, the U.S. could lose its top credit rating.
A downgrade would affect the borrowing costs for the Treasury, according to Treasury Secretary Janet Yellen.
"We have learned from past debt limit impasses that waiting until the last minute to suspend or increase the debt limit can cause serious harm to business and consumer confidence, raise short-term borrowing costs for taxpayers, and negatively impact the credit rating of the United States," Yellen said. "In fact, we have already seen Treasury's borrowing costs increase substantially for securities maturing in early June. 
"If Congress fails to increase the debt limit, it would cause severe hardship to American families, harm our global leadership position, and raise questions about our ability to defend our national security interests," Yellen continued.
If you are worried about meeting debt obligations due to Social Security payments being possibly delayed, you could consider taking out a personal loan to help you pay down high-interest debt. Contact Credible to speak to a personal loan expert and get all of your questions answered.
MANY AMERICANS EYE BUY NOW, PAY LATER TO GAIN MORE FINANCIAL FLEXIBILITY: SURVEY
U.S. voters shrug off default's impact on personal finances
Even a short debt limit breach could lead to a decline in real GDP, roughly 1.5 million lost jobs, and an increase in the unemployment rate to nearly 5% from its current level of 3.4%., according to a report by Moody's Analytics.  
Social security beneficiaries could also see a delay in their payments if the U.S. defaults on its debt.
"If Treasury securities are no longer per­ceived as risk-free by global investors, future generations of Americans would pay a steep economic price," Moody's said.  
However, fewer than half of U.S. voters think a U.S. debt default would significantly impact their personal finances, according to a recent Morning Consult survey. While 80% said that a default would be a "major" problem for the U.S. economy, only 39% believed it would impact their personal finances.
If you're struggling with high-interest debt, you could consider paying it down with a personal loan at a lower interest rate. You can visit Credible to compare options from multiple lenders without affecting your credit score. 
FED'S MAY INTEREST RATE HIKE COULD HARM REGIONAL BANK LENDING, MORTGAGES, EXPERT WARNS
Have a finance-related question, but don't know who to ask? Email The Credible Money Expert at moneyexpert@credible.com and your question might be answered by Credible in our Money Expert column.