We've wrapped up our live coverage for the day. You can read more about Russia's invasion of Ukraine here, or scroll through the updates below.
6 hr 37 min ago
It's nighttime in Kyiv. Here are some of the major developments from the war in Ukraine today
From CNN staff
It's past midnight in Kyiv, and news was dominated today by the fallout from a devastating Russian strike on the Ukrainian city of Dnipro.
Friday also brought reports of explosions on Russian soil and in territories it currently occupies in Ukraine, along with developments in a diplomatic row about foreign fighters.
If you're just catching up on the day's news, here's what you need to know: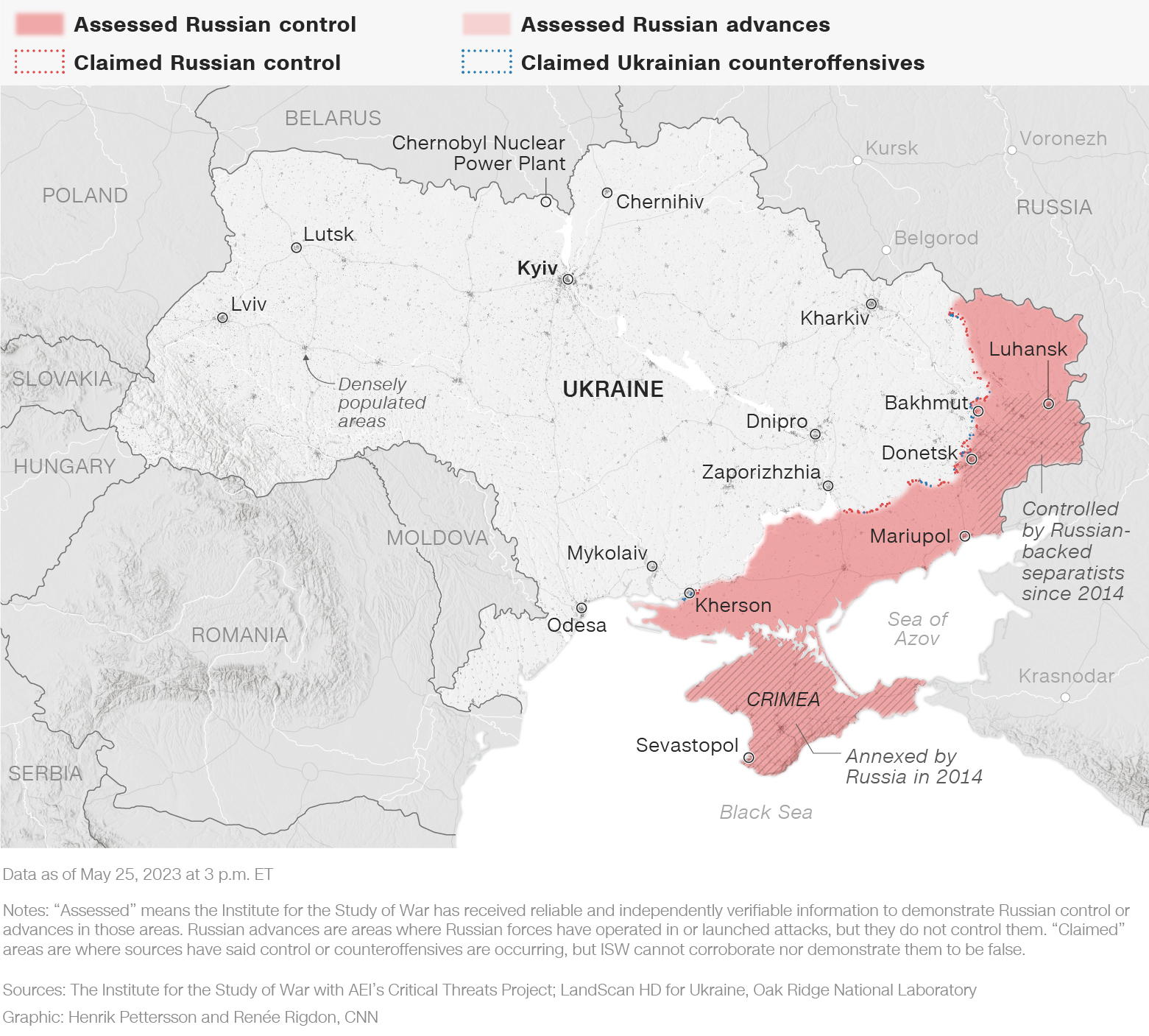 8 hr 12 min ago
Ukrainian military hit occupied Mariupol with missiles, Moscow-backed mayor claims
From CNN's Yulia Kesaieva and Hira Humayun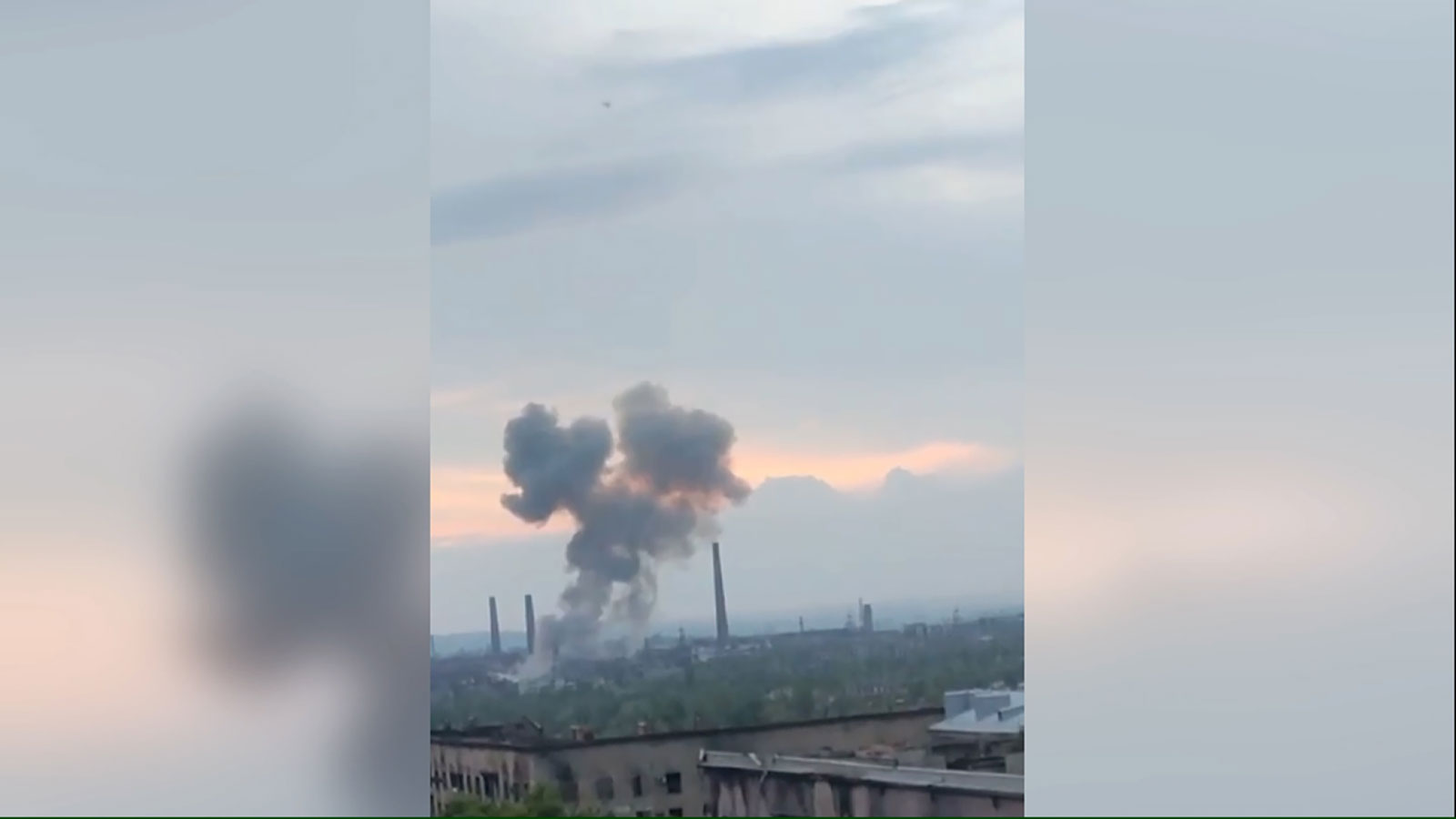 Ukrainian armed forces hit Mariupol on Friday with two long-range missiles, according to the occupied city's Russian-installed mayor, Oleg Morgun.
In a Telegram post, Morgun said emergency services were at the scene but there were no deaths, injuries or damage to the city's infrastructure, according to preliminary reports.
Officials with the self-declared Donetsk People's Republic had earlier said explosions in the city Friday were due to a Ukrainian rocket attack, and social media videos showed images which CNN geolocated to the site of the Azovstal steel plant, the infamous site of a weeks-long siege in the early months of Russia's full-scale invasion.
What Ukrainian officials are saying: Petro Andriushchenko, an adviser to the city's Ukrainian mayor, chimed in about Friday's blast in a series of Telegram posts.
He said Russian forces have set up checkpoints blocking a bridge near the Azovstal plant, and described a scene of confusion, with Russian emergency workers at the scene of the strike.
The Ukrainian official said Russian forces set up an ammunition depot near the plant. CNN cannot independently verify this claim.
"The hit was on the territory of Azovstal," Andriushchenko said. "Remember we said that they were setting up a base there to avoid strikes? Well, they set it up along with the ammo depot."
Andriushchenko went on to mock the Russian-backed officials' handling of the strikes.
"Buses with workers are being sent to Azovstal to clear the rubble," he said. "The official version is that they are looking for 'workers.' Why on earth would you need workers in the middle of the night is clear to everyone … we can conclude that everything is bad at Azovstal."
Ukraine has not claimed responsibility for the strike.
10 hr 11 min ago
New US cyber strategy uses learnings from war in Ukraine to deter adversaries
From CNN's Sean Lyngaas
The US Defense Department has a new cyberspace strategy that draws lessons from Russia's war on Ukraine and aims to use cyber operations to deter and "frustrate" US adversaries, according to a summary released by the Pentagon on Friday. 
The new strategy, which could define how the United States military approaches a crucial domain in cyberspace, singles out China as the "pacing challenge in the cyber domain."
The Chinese government "has made significant investments in military cyber capabilities and empowered a number of proxy organizations to pursue malicious cyber activities against the United States," the summary of the new Defense Department strategy says. The department sent the classified strategy to Congress this week, according to the summary. 
Russia, meanwhile, "poses an acute threat in cyberspace," the summary says, "evidenced by its malign influence efforts against the United States and repeated cyber attacks against Ukrainian civilian critical infrastructure." 
An example of how US military hackers look to "frustrate" their adversaries came in 2018, when Cyber Command temporarily knocked offline a Russian troll farm spouting disinformation during the 2018 election.
Some context: In the five years since the last Pentagon cyber strategy, the US military has been more public about its willingness to use offensive and defense cyber operations to defend US interests. And Cyber Command, the military unit responsible for hacking operations, has taken on a greater role in defending US critical infrastructure, including elections, from cyber threats. 
The command has also conducted an increasing number of so-called "hunt forward" missions in which officials travel to allied countries and, with permission, investigate hacking threats from Russia or other countries.
10 hr 42 min ago
Employees save animals from burning building after Russian attack hits veterinary clinic, vet says
From CNN's Yulia Kesaieva and Xiaofei Xu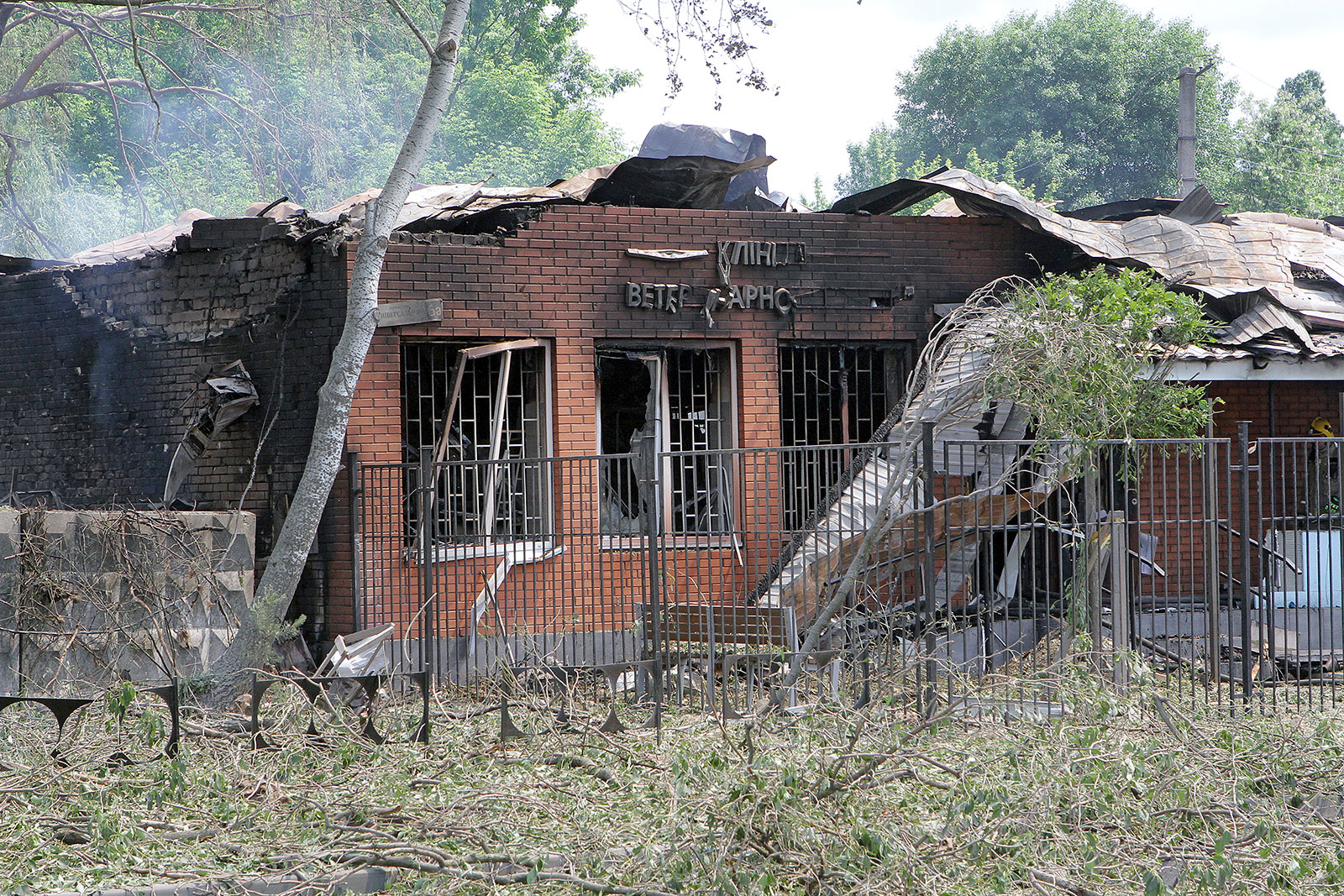 Employees are in shock after digging animals out from the rubble of a veterinary clinic that was hit by a Russian rocket in the city of Dnipro Friday, according to the clinic's owner.
Ukrainian officials say strikes on the city, which also hit a hospital and damaged surrounding buildings, killed two people and wounded at least 31 others, including two young children.
A rocket hit the vet clinic around 10:30 a.m. local time (3:30 a.m. ET), causing a fire, according to clinic owner Dr. Andrii Malyshko.
"All the employees are in a state of shock," Malyshko told Ukrainian TV. "All the animals were saved from the burning building."
The clinic had numerous dogs and some cats, which were all transferred to clinics nearby, according to Malyshko.
Local dog owners have launched a campaign to gather donations for Malyshko and his clinic. A woman named Yulia Honcharova said her dog Leia is from the clinic. She called on pet owners who Malyshko has helped in the past to now support him.
"Together it will be easier to bear," Honcharova said.
10 hr 44 min ago
Explosions reported in Russian-occupied Mariupol
From Josh Pennington and Lauren Kent 
Explosions were reported in the Russian-occupied city of Mariupol Friday evening, according to social media video and officials on both the Ukrainian and Russian-backed sides. It is unclear exactly what caused the explosions. 
The deposed Mariupol City Council said in a post on Telegram that there were strikes at the steel plant Azovstal that is now under Russian control.
"We are waiting for some good news," the council said in the social media post.
Meanwhile, there was shelling coming from the Ukrainian-held side Friday evening, according to the Russian-backed Donetsk People's Republic's (DPR) Joint Center for Control and Coordination.
The center said Ukraine's military launched two long-range rockets at Mariupol from the northwest around 8:10 p.m. (1:10 p.m. ET).
Social media videos posted by unofficial accounts show a smoke plume seen above Mariupol. A local Mariupol Telegram channel posted an image of a strike on Mariupol, which CNN has geolocated to the site of the Azovstal steel plant.
Mariupol has become an important staging point for Russian forces in southern Ukraine, and Russian military convoys frequently pass through.
CNN's Tim Lister contributed reporting to this post.
11 hr 49 min ago
Attack on Dnipro medical center wounded 31 people, including 8 doctors, authorities say
From Yulia Kesaieva in Kyiv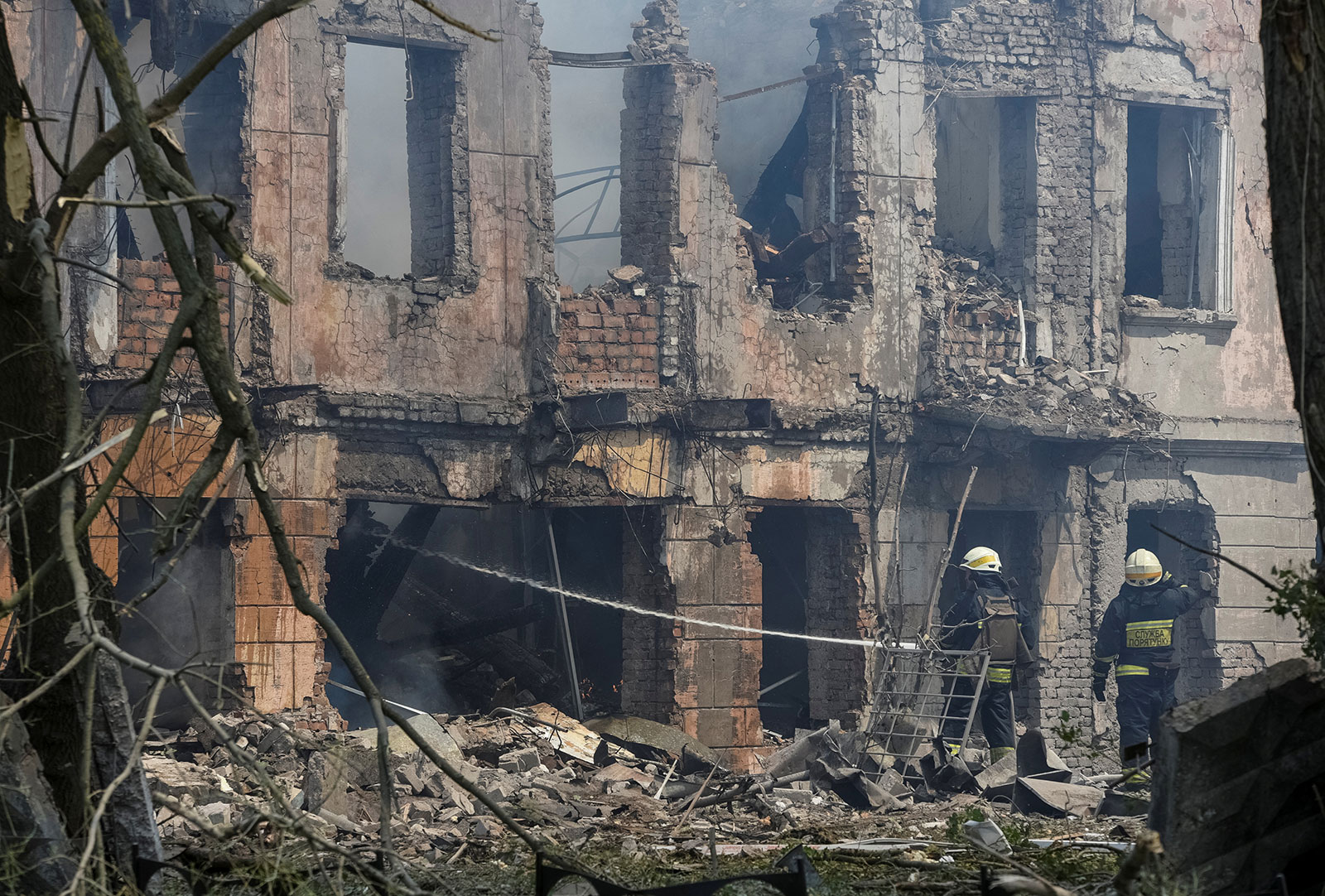 The number of people injured in Friday's attack on the city of Dnipro has risen to 31 people, including eight doctors and two children, according to the head of Dnipro's regional council, Mykola Lukashuk.
Among the injured, 16 people were taken to hospitals and the others are receiving outpatient treatment, Lukashuk said in a Telegram post. 
"Two of the injured are in serious condition, 12 people are in moderate condition, and the rest have minor injuries," Lukashuk added. 
It was a ballistic missile that hit Dnipropetrovsk City Hospital No. 14, which was partially destroyed, Lukashuk said. The blast set the second floor on fire.
A one-story business nearby also caught fire, but firefighters extinguished the blaze, the official said. A sports complex, school, surrounding homes and cars were also damaged.
11 hr 51 min ago
Dnipro hospital attack proves Russia deliberately targets civilians, Ukrainian presidential adviser says
From CNN's Vasco Cotovio and Fred Pleitgen in Kyiv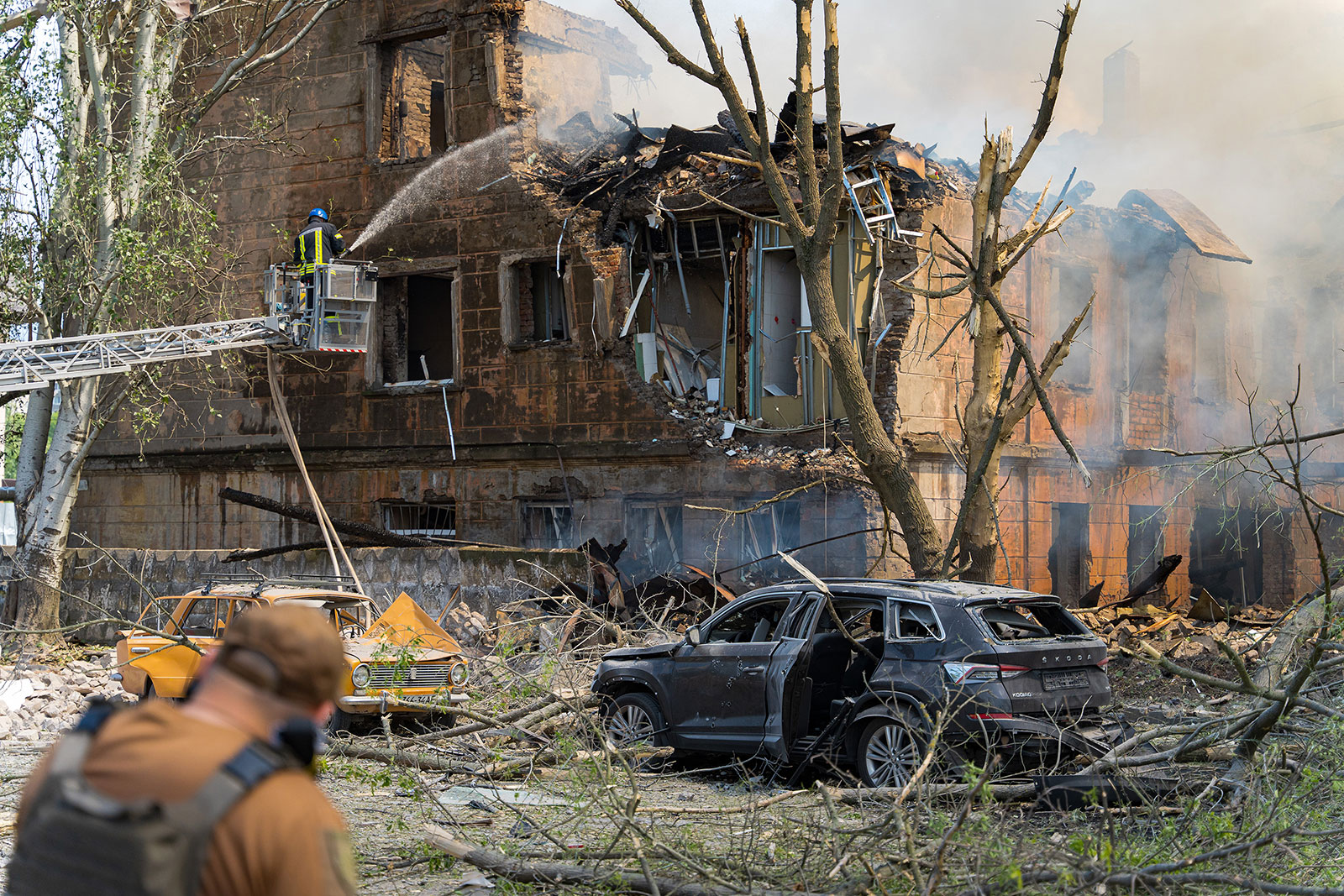 Russia's attack on a hospital in Dnipro city was a "deliberate strike on a civilian object," Ukrainian presidential adviser Mykhailo Podolyak said, adding that it proves Russia is targeting civilians.
"This is absolutely clear evidence that Russia has in principle changed the tactics of its rocket attacks. Now it is mainly strikes on civilians — deliberately on facilities such as the hospital in Dnipro, with the intention to inflict a psychological (blow) and obviously kill as many people as possible," Podolyak said in an interview with CNN's senior international correspondent, Fred Pleitgen.
The hospital attack Friday morning killed two people and wounded at least 30, including young children, local officials say.
Podolyak said similar strikes have hit residential areas and places like hospitals and schools in the last few months. Specifically in the southern Kherson and eastern Kharkiv regions, Podolyak said Russia destroys "residential areas every day with artillery, in the same way."
"It seems to me that it's time to stop expecting Russia to behave conventionally, as a country that follows some rules imposed by international law or some conventions. No, it wages war against the civilian population as demonstratively as possible," Podolyak said.
The presidential adviser said attacks on Ukraine's civilian population constitute war crimes. 
Ukrainian President Volodymyr Zelensky said of the Dnipro attack in his daily address Friday: "It is a pure atrocity: a Russian missile, ballistics – against a hospital and a veterinary clinic. Absolutely sick creatures." 
CNN's Yulia Kesaieva in Kyiv contributed to this report. 
12 hr 33 min ago
EU warns against Russia's "extremely dangerous" move to deploy nuclear weapons in Belarus
From CNN's Lauren Kent in London and Xiaofei Xu
The European Union is condemning the agreement between Moscow and Minsk to deploy Russian nuclear weapons in Belarus, calling it "a step which will lead to further extremely dangerous escalation," the bloc said Friday. 
"The Belarusian regime is an accomplice in Russia's illegal and unprovoked war of aggression against Ukraine," the European External Action Service said in a statement, calling on Belarus to "reverse decisions that can only contribute to heightening tensions in the region, and undermine Belarus' sovereignty." 
"Any attempt to further escalate the situation will be met by a strong and coordinated reaction," the European Union warned in the statement. 
Belarus President Alexander Lukashenko said Thursday that the transfer of some tactical nuclear weapons from Russia to Belarus has begun, according to state news agency Belta.