Chapman overheard nurses gossiping about the conviction while she was recovering from an operation and decided to write to her old friend. "I'm so sorry you're in this situation," Chapman remembers writing. "Can I come and visit you?"
Folbigg was distant at first, but their friendship was slowly rekindled. Chapman felt compelled to ask her friend some "really hard questions", she says. "I just said, I need to know."
One of those questions was about the diaries. "[Her explanation] made perfect sense to me," Chapman says. "I've known this person long enough to know she couldn't have done it."
She began trying to fight for her friend. But Chapman was a senior manager at TAFE NSW, not a lawyer. She knew nothing about how the justice system worked. "I was a paper tiger," she says, "a total numpty. I remember annoying the hell out of the solicitors, asking them questions. I was trying to be helpful."
A breakthrough came in 2011, when the Australian law academic Emma Cunliffe, who is now at the University of British Columbia, explored Folbigg's conviction in a book called Murder, Medicine and Motherhood.
Cunliffe decided to do her PhD on cases involving Meadow's Law, a now-discredited theory that multiple infant deaths in one family are suspicious.
She looked at several cases around the world, but "within two or three years the only conviction left standing was Kathleen Folbigg's", she says. "I wanted to understand what was different."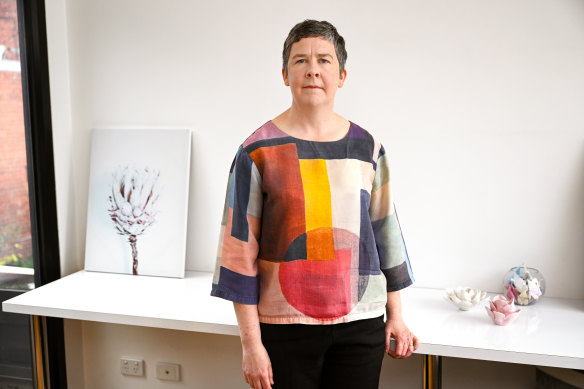 The key differences were that Folbigg kept diaries, and that her former husband testified against her during her trial. Cunliffe argued that Folbigg had been wrongfully convicted.
The book gave Chapman's advocacy legitimacy and focus. The campaign to free Folbigg gathered momentum. In 2015, her lawyers lodged a petition for a judicial review, arguing that there was no forensic evidence the children were murdered. In 2018, an episode of Australian Story, featuring calls from Folbigg to Chapman, pressed her case further.
Loading
The campaign needed a face, and Chapman became that face. "She's the one talking to [Channel Seven presenter David Koch] Koshie and [Nine presenter] Karl Stefanovic and – be still my beating heart – [Nine presenter] David Campbell," says another Kotara High alumnus, Megan Donegan. "She's the one putting her life totally on hold, and leaving her home for three weeks. What she's done is amazing and incredible."
The other friends helped. Donegan did online media and helped with fundraising, but saw her role as "a bit of comic relief, if Kath needs to have a laugh".
Another friend, who wants her identity kept secret due to the nature of her job, dealt with practical challenges, such as navigating the Corrective Services system. They all visited Folbigg, bringing her pocketfuls of coins to spend in the vending machine as they chatted about old times.
Hope surged when Folbigg's case was sent before a 2019 inquiry, but faded again when former judge Reginald Blanch found her guilt was "even more certain".
Loading
The whole experience, says Chapman, has been an emotional roller-coaster. They have learnt that hope can be more dangerous than despair. "We don't want to hope," says Chapman. "It's not over 'til it's over. I can't even begin to explain how much it hurts when it doesn't happen."
Chapman's advocacy for Folbigg has become her crusade. She left TAFE long ago, and is now studying a double masters in counselling and autism education. "This has well and truly consumed me for over a decade," she says.
It's an enormous sacrifice. But she's gained from the experience, too. She has learnt, when one thing doesn't work, to try another.
"I will zig, then I zag," Chapman says. It has also strengthened her self-belief. "My Mum used to say to me 'my God, if you could stick to something, you'd be amazing'," she says. "This has made me focus. It's made me a much better person. It's given me a level of inquiry that I'm quite proud of myself about."
Loading
Chapman will help Folbigg with post-prison paperwork – reapplying for a driver's licence and opening bank accounts – as well as supporting her financially until her government payments begin.
When Folbigg is settled, Chapman will keep fighting. She wants NSW to set up a Criminal Cases Review Commission, so cases such as Folbigg's don't rely on expensive inquiries set up at the discretion of a minister. She'll be continuing her studies and her wildlife rescue volunteering.
"My life is full, but I will go on to a doctorate and look at this," she says. "I think at the heart of this is piss-poor leadership; we have no moral compass.
"I have to reconcile it in my head. Kath has to reconcile it. Maybe it was all for the greater good – that we do not do this again."
The Morning Edition newsletter is our guide to the day's most important and interesting stories, analysis and insights. Sign up here.