McKean delivered works of considerable importance in the country field, such as Lights on the Hill, Indian Pacific, Walk a Country Mile, Biggest Disappointment, Ringer from the Top End, Kelly's Offsider, The Angel of Goulburn Hill, Beat of the Government Stroke, Lady Is a Truckie, Wind-Up Gramophone, Christmas at the Station, Local Mary Magdalene and Peppimenarti Cradle, which she penned for daughter Anne Kirkpatrick, an award-winning recording artist in her own right.
When McKean wrote Lights on the Hill after a harrowing drive pulling a caravan on the road from Tamworth to Warwick, her husband was initially hesitant to record it, thinking it "too wordy". Very soon it would establish a genre of Australian trucking songs, was widely covered by other performers (including Keith Urban, Lee Greenwood, Lee Kernaghan and the Wolfe Brothers, as well as rock acts Mental as Anything and Dragon), receive the first Golden Guitar handed out at the Tamworth Festival in 1973, and close every Dusty show performance thereafter.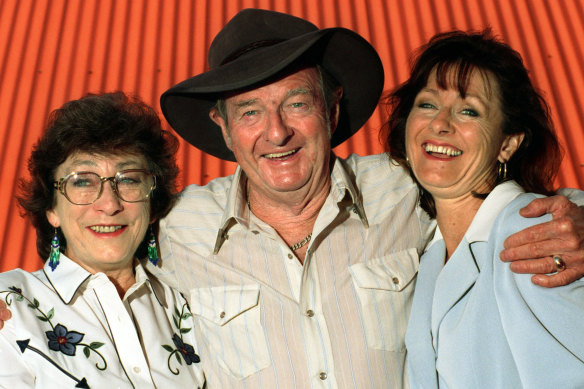 The McKean-Dusty musical axis over 50 years produced more than 100 albums, sold eight million records in Australia alone, and earned 45 Golden Guitars. I was not the only one long fascinated by this family who lived in Sydney but told stories and sang songs that painted a vivid portrait of Australia – because for many citizens, this was the Australia they knew.
Max Ellis, one of the founders of the Tamworth Country Music Festival, wrote that "Joy's songs are full of vivid, evocative imagery, bringing her own outback experiences to life. Her musical and lyrical expertise made a significant contribution to Slim's work and I believe her influence in the shaping of the Slim Dusty legend can never be underestimated."
In time there would be a certain shared intuition at play: "I understand a lot of what Slim went through," McKean said, "and he didn't have to tell me all that much somehow – it was conveyed over the years. We knew each other just so well that I could express things for Slim that even he could not express for himself. I think that is why I could write for him."
Mildred Geraldine Joy McKean was born on January 14, 1930 in the Hunter region centre of Singleton. Her father, a country schoolteacher and an amateur steel guitar player, raised his children on a range of music styles, including that of American country music pioneers Jimmie Rodgers and the Carter Family.
Loading
McKean learnt the accordion, piano and steel guitar, while younger sister Heather learned ukulele; both took up yodelling. Joy contracted polio and was treated in Sydney by the then-controversial Sister Kenny. It was said to be a meeting of two strong-willed women, though in the process McKean emerged as an even stronger person and a champion swimmer.
She told Richard Fidler on ABC radio: "First time I ever sang on radio I suppose I would have been about 10 … I sang on a half-hour program running on 2GB in Sydney with the Hawaiian Club."
Then came an appearance on Dick Fair's legendary Australia's Amateur Hour radio show, followed by The Diggers Show at the Tivoli Theatre, where they reportedly "brought the house down". There were square dances and wartime fundraising concerts, particularly when their father enlisted in 1943 and the family moved to Murwillumbah, and then to the Sydney suburb of Birchgrove. Joy was a student at Sydney University and the sisters sang at the revue there.
In 1949 the girls were working at the Alert Radio shop in Parramatta, where the manager came up with an idea for a radio show. The McKeans turned The Melody Trail into quite an institution on 2KY, keeping it active until 1956. "Every Saturday evening we would play record favourites … we would perform live, do requests, other artists would perform live. It was a lot of fun."
Loading
The McKeans began recording from 1951 on Rodeo Records, cutting sides that included Gymkhana Yodel, Prairie Love Knot, The Valley Where the Frangipani Grow, My Hometown, Morning Mail and Yodel Down the Valley – all McKean originals. Rising at around the same time were the Schneider Sisters, with famed yodeller Mary Schneider.
So when McKean met a handsome young David Gordon Kirkpatrick soon after the war – as Slim Dusty on his first tour for impresario Tim McNamara – she was definitely the bigger star. That was until 1957, when The Pub with No Beer changed all their lives forever.
Heather would go on to marry singer Reg Lindsay and McKean and Slim would go out on 30,000-mile (48,000-kilometre) tours of up to 10 months – all of which was captured in the 1984 film The Slim Dusty Movie and the book McKean and Slim wrote together, Another Day, Another Town. It was often a vaudeville world which included boxers, hypnotists, jugglers, plate-spinners and comedians: perfect song fodder.
In 1993 the McKean Sisters reunited to record the CD McKean Sisters on Stage, and continued to perform together on stage at various times with the Slim Dusty Show over the subsequent decade, up until Slim's death in 2003.
McKean was twice inducted into the Roll of Renown (for making a significant and lasting contribution to country music), first as one half of the McKean Sisters in 1983. In 2019 she received a lifetime achievement gong at the Australian Women in Music Awards. Over more than 30 years there would be six personal Gold Guitar awards from the Country Music Association of Australia. Finally, in 2021 at the APRA Awards, she was honoured with the prestigious Ted Albert Award for outstanding services to Australian music, simultaneously with the late Helen Reddy.
Apart from being one of the founders of the Tamworth Country Music Festival, McKean was chair of the Slim Dusty Foundation, the organisation established to build and operate the Slim Dusty Centre in Kempsey, which opened in October 2015.
The Concert for Slim at Tamworth in 2004 brought together more than 30 Australian music artists and featured a historic duet performance by McKean and Paul Kelly of the early Slim classic The Sunlander and a cover of Lights on the Hill performed by Keith Urban.
Loading
The film soundtrack to Slim & I included a new McKean composition, I Don't Believe You, co-written with grandson James Arneman and his wife Flora Smith. It was described by Rolling Stone as "McKean at her most honest and poignant, with her iconic songwriting shining through in what was her first composition in over a decade." There was a 2011 autobiography, titled I've Been There (and Back Again). She was rarely still, even in her 90s.
Joy McKean is survived by children Anne and David, four grandchildren and six great-grandchildren. There is a statue of her with Slim in Tamworth.
The Morning Edition newsletter is our guide to the day's most important and interesting stories, analysis and insights. Sign up here.