Florida Governor Ron DeSantis officially announced his campaign for the Republican presidential nomination on Wednesday in an interview on Twitter after filing paperwork with the Federal Elections Commission to formalize his candidacy.
DeSantis appeared on Twitter Spaces with Twitter CEO Elon Musk for an interview moderated by entrepreneur and DeSantis supporter David Sacks. After a roughly 20-minute delay due to technical issues that arose when over 600,000 listeners tuned into the initial Twitter Space, DeSantis made his long-awaited announcement.
"I am running for President of the United States to lead our great American comeback," DeSantis said. "We know our country is going in the wrong direction, we see it with our eyes and feel it in our bones. Our southern border has collapsed. Drugs are pouring into the country. Our cities are hollowed out by spiking crime. The federal government's making it harder for the average family to make ends meet and to attain and maintain a middle-class lifestyle."
DESANTIS TOUTS FLORIDA'S LOW UNEMPLOYMENT RATE, INSISTS STATE IS 'OUTPERFORMING THE NATION'
Florida Gov. Ron DeSantis announced his campaign for the Republican presidential nomination on Wednesday. (AP Photo/John Locher / AP Newsroom)
DeSantis said that Americans must "restore sanity to our nation" by "embracing fiscal and economic sanity." He said this could be accomplished if the federal government would, "Stop pricing hardworking Americans out of a good standard of living through inflationary borrow, print, and spending policies, and please embrace American energy independence."
Florida has enjoyed an economic boom during DeSantis' tenure as governor. It has one of the lowest unemployment rates in the U.S. at 2.6% as of April 2023 and ended 2022 with a larger workforce than New York state for the first time ever. DeSantis sought to contrast those economic successes with the policies of the Biden administration and Democrats: "Biden's pursued inflationary policies that are hurting working people. We will reverse those policies and we'll build an economy where working Americans can achieve a good standard of living."
DESANTIS' WORK ETHIC SHAPED BY ELECTRICIAN JOB, WORKING-CLASS BACKGROUND
The Sunshine State has also seen steady population growth in recent years, including a notable jump in the wake of the COVID-19 pandemic, which thrust DeSantis into the national spotlight as he pressed to reopen Florida's economy as quickly as possible – despite opposition from Dr. Anthony Fauci. According to data released by the Census Bureau in December, Florida was the fastest-growing state in the nation in 2022 for the first time since 1957, adding 416,754 residents.  
"We held the line when freedom hung in the balance and we're thriving as a result. Florida is the nation's fastest-growing state. We're number one in net in-migration. Number one in new business formations. Recently ranked number one in education. We have a 50-year low crime rate and one of the lowest tax and debt per capita in America," DeSantis said.
DESANTIS STANDS HIS GROUND IN DISNEY FIGHT: 'THE CHANCE OF US BACKING DOWN… IS ZERO'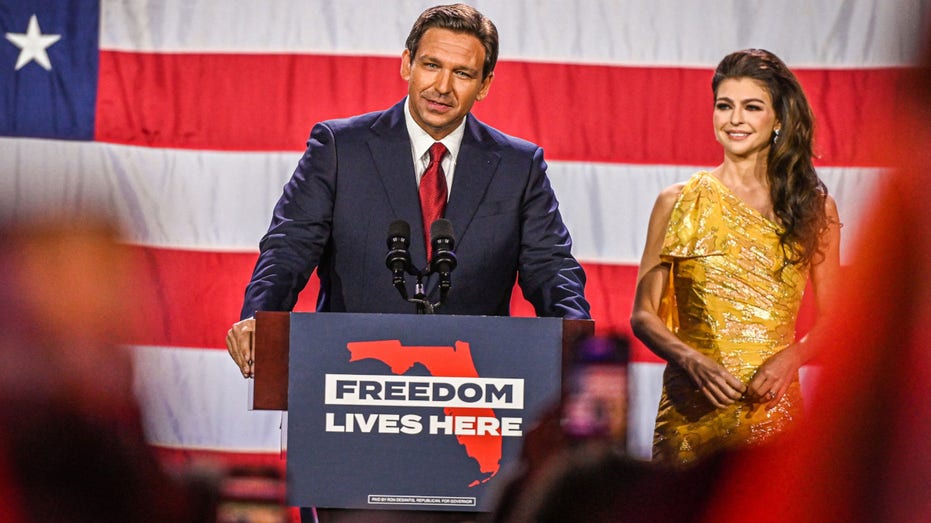 Florida Governor Ron DeSantis with his wife Casey DeSantis speaks during an election night watch party at the Convention Center in Tampa, Florida, on November 8, 2022. (Giorgio Viera/Getty Images / Getty Images)
DeSantis has been embroiled in a feud with Disney over the company's opposition to Florida's Parental Rights in Education Law, which critics dubbed the "Don't Say Gay" bill. DeSantis has argued Disney's opposition to the law – which prohibits classroom discussion of sexual orientation and gender identity in lower grade levels – exemplified the "woke mind virus" by empowering teachers over parents with respect to discussions of sexual issues with children. 
The dispute prompted lawsuits as GOP lawmakers in the state moved to limit Disney's control over an area known as the Reedy Creek Improvement District. Former President Donald Trump and other GOP hopefuls have criticized DeSantis over the dispute with Disney, but DeSantis said during the interview that he's not backing down.
"I think some of these Republicans that are taking Disney's side, they're basically showing themselves to be corporatists because these are all corporate goodies, this is not the way that you would run a competitive economy, and the arrangement had really outlived its usefulness but it persisted because Disney was so politically powerful," DeSantis said.
DISNEY CEO BOB IGER BLASTS FLORIDA GOV. DESANTIS FOR 'RETALIATING' AGAINST COMPANY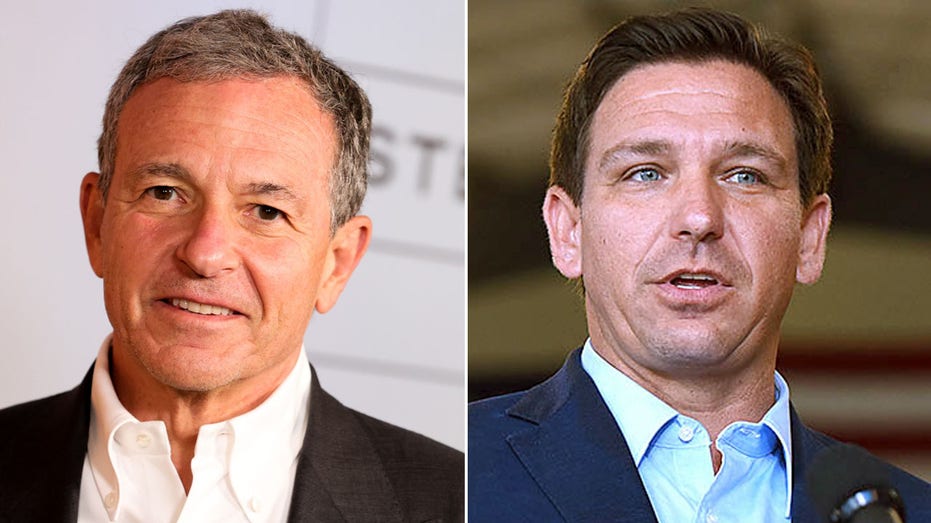 Disney CEO Bob Iger and Florida Gov. Ron DeSantis are embroiled in an ongoing feud. (Getty / Getty Images)
As the tit-for-tat has dragged on, Disney announced it would abandon plans for a new Florida campus in Orlando estimated to cost $1 billion, although the company has been downsizing and the project was devised by Disney's previous CEO. Moderator David Sacks noted that Republicans have traditionally been framed by the media as more friendly to corporations, but DeSantis' feud with Disney has run counter to that assumption. 
"It's interesting because the media in Florida for years had hammered Disney and they would point out like that this was not a good arrangement because you know Disney was not accountable to anyone," DeSantis said. "And oh, by the way, on this project, you know, they had announced this many years ago, but they had not done anything for it. But that is actually not in Reedy Creek so that was at a different part of Orlando and so none of the issues that are involved in their suit would have made a difference there." 
Ticker
Security
Last
Change
Change %
DIS
THE WALT DISNEY CO.
89.06
-0.76
-0.85%
"Obviously, as a publicly traded corporation you know they have a fiduciary duty to do what's best for their shareholders. So I'm assuming if they were in better financial shape and they saw the project as lucrative they would have gone forward with it," DeSantis added. "And I'd just point out, nobody probably has made Disney more money than me because they were open during COVID when they were closed in California."
Florida permitted DisneyWorld to reopen on May 20, 2020, whereas California didn't allow Disneyland until April 30, 2021. Then-Disney CEO Bob Chapek said on a November 2020 earnings call that he was "extremely disappointed" with California's Democratic Governor Gavin Newsom for using "arbitrary standards" to reopen rather than basing decisions on science. Disney lost about $6.9 billion in 2020 due to parks around the world getting shuttered due to the pandemic. 
GET FOX BUSINESS ON THE GO BY CLICKING HERE
DeSantis recently began his second term as Florida's governor. He narrowly defeated Democrat Andrew Gillum by just over 32,000 votes in 2018 to win his first term. DeSantis then followed that up with a massive re-election victory in 2022 over former Gov. Charlie Crist by a margin of more than 1.5 million votes, securing nearly 60% of the popular vote.
Prior to serving as Florida's governor, DeSantis served three terms in the U.S. House of Representatives from 2013 to 2018 before he opted against seeking a fourth term in favor of seeking the Florida governor's office.