Florida Republican Rep. Byron Donalds turned up the heat on Biden administration officials Wednesday, criticizing the Department of Energy for declining an invitation to testify to lawmakers about its gas stove regulations. 
House Oversight Republicans held a subcommittee hearing Wednesday titled "Consumer Choice on the Backburner: Examining the Biden Administration's Regulatory Assault on Americans' Gas Stoves." GOP lawmakers have accused the Energy Department of effectively banning new gas stoves with strict new energy efficiency standards, while the Biden administration has repeatedly denied they want to ban gas stoves. 
Republicans invited two senior Energy Department officials to testify regarding the administration's controversial policies, but neither accepted the invitation. During the hearing, Donalds called the officials' absence "highly disrespectful." 
"They don't want to answer questions about their own rule, which is going to impact the bottom line and pocketbook of every American, especially those who own gas stoves currently. And, you know, I just find that to be ridiculous," Donalds said. 
BIDEN ADMIN'S REGULATIONS WOULD BAN 96% OF GAS STOVES, REPUBLICAN SENATOR WARNS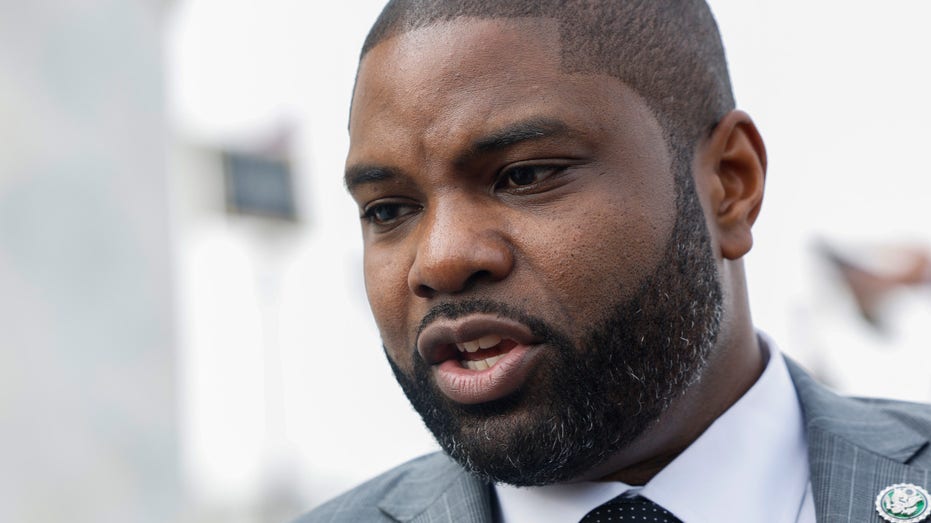 Florida Rep. Byron Donalds said, "[W]e have a Department of Energy who doesn't even have the guts, the courage to come in here and answer questions about their proposed rule. They'd rather hide in their building down the street than come in here and (Anna Moneymaker/Getty Images / Getty Images)
"They must be taking cues from the president, who doesn't even want to answer questions, doesn't do press conferences, and just is nowhere to be found. I find that to just really be laughable, to be honest," he added.
In January, a President Biden-appointed Consumer Product Safety Commission member said a nationwide ban on gas stoves was "on the table," citing potential respiratory health concerns. The comments sparked outrage among Republicans, consumer advocacy groups and the gas industry, and ultimately forced the White House to disavow any potential ban.
However, in February, the DOE issued a notice of proposed rulemaking announcing it had "tentatively concluded" that new energy conservation standards for stove appliances would be technologically feasible and economically justified. The agency proposed new limitations on how much energy electric stove tops (both coil and smooth) and gas cooking tops may consume in a year. 
DEMOCRAT-LED CITIES ARE ALREADY MOVING FORWARD WITH GAS STOVE BANS THAT WILL AFFECT MILLIONS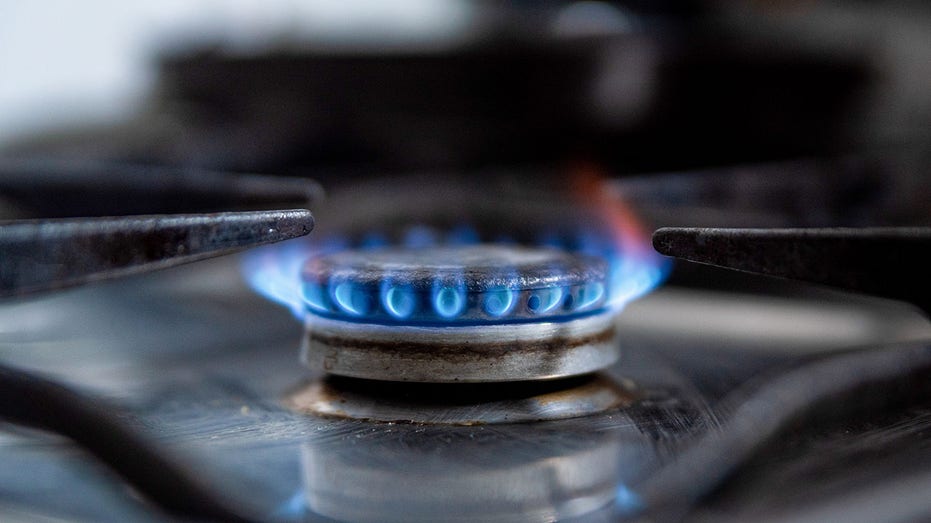 The Biden administration has proposed stringent new energy efficiency standards for gas stoves that Republicans oppose, claiming it would effectively ban new gas stoves. Administration officials have disputed this characterization of the policy. (Photo by Davide Bonaldo/SOPA Images/LightRocket via Getty Images / Getty Images)
The DOE argued that stove appliances achieving its proposed standards are already commercially available and that the benefits to consumers and the climate exceed the potential burdens. Regulators estimated that the new standard would raise the upfront cost of stove products by $32.5 million per year but save $100.8 million annually in operating costs, while generating $67 million in climate benefits and $64.9 million in health benefits. 
A DOE spokesperson previously told FOX Business the proposed standards would not go into effect until 2027 and cumulatively save the nation up to $1.7 billion.
Roughly 35% of homes in the U.S. have gas stoves that, according to reports, release carbon monoxide, nitrogen dioxide and other matter that the World Health Organization and EPA have deemed unsafe because they can cause cardiovascular problems, cancer and other health conditions. Industry groups have contested claims that natural gas-burning stoves contribute to health problems. 
Republicans have pointed out that the DOE itself acknowledges that just 4% of the current gas stove market share in a test sample would meet the stringent standards, calling the proposed rule an effective ban on the vast majority of gas stove products. 
Energy Secretary Jennifer Granholm told Congress in March that when the DOE tested gas stoves for compliance with a new regulation, "in this case, they picked the gas stoves that were most likely to be affected." 
The 4% figure Republicans cite refers to tested gas cooking tops that were expected to fail to meet the proposed standards, not the full range of available cooking tops, Granholm explained. 
"So the full range of gas stoves absolutely is not affected," Granholm said. "In fact, half of the gas stoves on the market right now wouldn't even be impacted." 
INTERNAL BIDEN ADMIN MEMO SHOWS IT WAS SERIOUS ABOUT BANNING GAS STOVES BEFORE PUBLIC UPROAR
Energy Secretary Jennifer Granholm has previously spoken out about the gas stove issue. (AP Photo/Evan Vucci, File / AP Newsroom)
Donalds said Wednesday that if DOE officials had showed up to the hearing, he would have asked if the government expects Americans to "retrofit" their kitchens with outlets for electric stoves. 
"This is ridiculous. This is not a movie; this is people's lives. And we have a Department of Energy who doesn't even have the guts, the courage to come in here and answer questions about their proposed rule. They'd rather hide in their building down the street than come in here and talk to the American people, talk to the people's representatives," Donalds said. 
GET FOX BUSINESS ON THE GO BY CLICKING HERE
The congressman noted that lawmakers will take up a funding bill for the DOE in the coming months.
"If you can't even come in here and answer questions, why would we fund you?" he asked. "And I'm serious. I'm not even joking around because this thing is stupid."
A Department of Energy spokesperson told FOX Business that Congress requires the department to review and update energy efficiency rules and that a court order requires agency action. 
"DOE is a law-abiding agency that takes its legal obligation seriously," the spokesperson said. "Despite attempts to misinform the public and undermine efforts to lower energy bills nationwide, the American people continue to support the Department's actions that are saving them money. In fact, as a result of the Department's energy efficiency actions, cost savings for American families and businesses are projected to reach nearly $2 trillion dollars by 2030." 
Fox News' Thomas Catenacci contributed to this report.