Loading
On May 19, Franklin got a call from his parents informing him that his father's terminal illness had progressed more rapidly than they had expected, and that he only had a few days to live.
Despite his father encouraging him not to return home as it could set back his world record attempt, Franklin jumped on one of the first planes back to Australia. Soon after he landed, his dad was put into palliative care. Within 24 hours he died.
Speaking to this masthead after returning to the US this week, Franklin says he is grateful he had the chance to say goodbye to his father but admits he's now struggling to pick up where he left.
"When I got back, I thought, should I even be here?" he says, shortly after returning to North Carolina. "Leaving my mum and my family behind was really tough, but Dad really wanted me to get this run done, so here I am. Mentally it's friggin' hard, though.
"For now, I'm just cruising and trying to get back into it. I did 20 kilometres the other today, 25 kilometres today, tomorrow I'll do 30 to 40 k's and just build it back up. I just have to keep putting one foot in front of the other."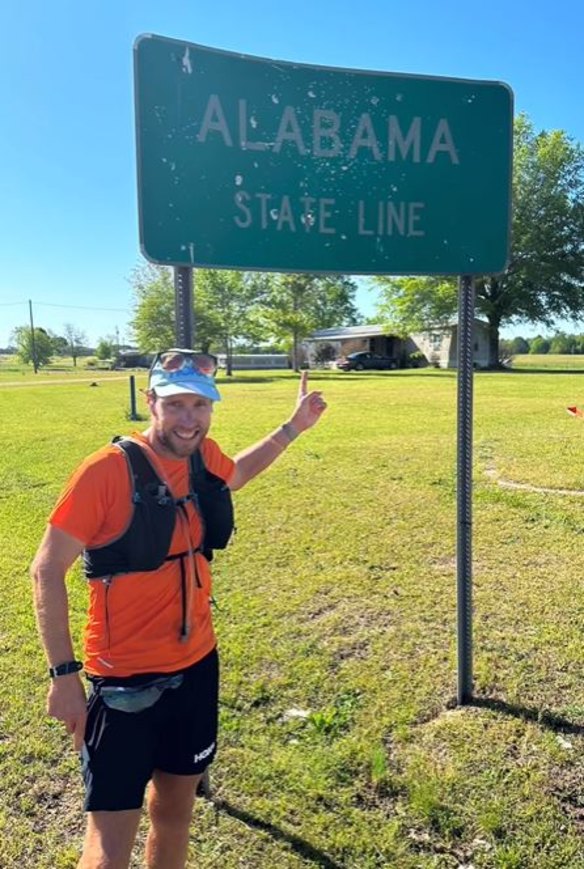 The seeds of Franklin's world record attempt were sown in 2017 after he completed a run around the Simpson Desert.
On the flight home, he was seated next to someone reading a book about fellow Australian Tom Denniss, who, in 2013, became the fastest person to circumnavigate the world on foot. Franklin immediately decided he needed to follow suit.
The aim, he says, was simply to inspire people to get active. Franklin himself used to weigh 120 kilograms and lived what he describes as a "sedentary life".
He later became a long-distance athlete, and even made a name for himself during Brisbane's COVID lockdown by undertaking extreme challenges, such as running the equivalent of a marathon in his apartment, and mimicking the climb from base camp to Mount Everest using the stairs of the same multi-storey building.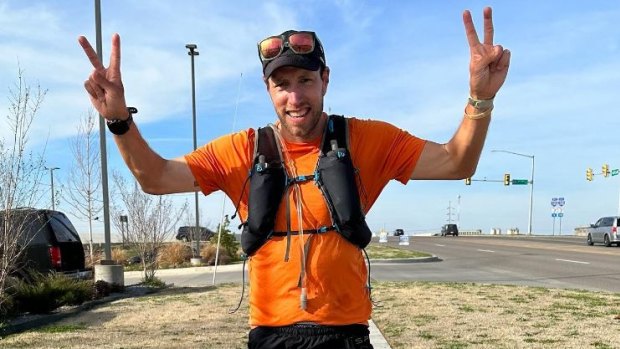 He admits this latest challenge, however, is "a bit like Groundhog Day". Most mornings he wakes around 6am with his support crew, which is essentially one person who drives their RV, cooks meals and provides moral support along the way.
He has breakfast and starts running from about 8am, usually for about eight hours "or until I get tired".
After a night of rest – or a full day at best – he'll start the process all over again.
Loading
While it hasn't always been easy, Franklin is thankful for the unforgettable moments along the way, from the kindness of strangers who offer spots at their camping grounds to strangers who have wanted to run alongside him, in scenes reminiscent of Tom Hanks' character Forrest Gump, who decided to go for a run one day and ended up crisscrossing America on a three-year adventure.
Franklin's US highlight, for instance, took place in the Texan town of Cactus, population 3179, when an elementary school teacher reached out and asked if his students could join a running leg.
"The police shut down the road so they could come along," Franklin says.
"This town was barely a blip on the map, but we had about 30 kids from different parts of the globe joining me. It was just amazing because that's the whole premise of this run: to meet people and inspire them to get moving."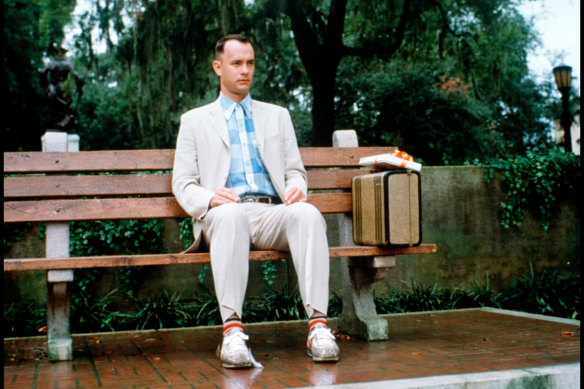 By the time we spoke this week, Franklin had clocked up about 9000 kilometres and still had about 17,000 to go to hit the record.
He plans to spend the next 10 days running as far north as he can along the US east coast before flying to Chile to start the South American leg, after which he will head to Europe.
He's currently well ahead of the second-fastest attempt to run around the world and "within the realm" of beating the current record holder.
But following his father's death, Franklin says he's concentrating more on enjoying every moment rather than focusing on a world record.
Loading
Perspective, he says, is everything.
"The whole experience is quite humbling because the word 'inspiring' doesn't really sit well with me," he says.
"But I get to teach people about resilience and grit and determination. And that's a real privilege."
Get a note directly from our foreign correspondents on what's making headlines around the world. Sign up for the weekly What in the World newsletter here.